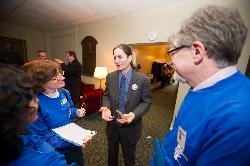 Legislative Update from United Professions AFT VT
 It's been a good couple of weeks at the statehouse. Hundreds of you have called and emailed your legislators and we've seen that it works. 
Pre-K through College Education Council (H.709) - It's an important bill which establishes a council to form a comprehensive education policy for the state. We amended the bill so an actual faculty member would be on the council. When Rep. Dickerson tried to strip us off the council we put out the call to you and you responded. We turned out enough calls on very short notice that our language was added back into the bill and it passed out of committee and then out of the House. We're watching its progress in the Senate.
Mandatory Overtime (H.268)
- The House leadership is doing a serious headcount to gauge support for the bill. We're watching things closely.
Healthcare is a Human Right (S.88)
- It's passed out of the Senate thanks to your work! Here's a message from the Workers' Center:
"I can't believe it, but it's already April and we've got less than three weeks to go until May 1st! As you know United Professions of Vermont is part of the Healthcare Is A Human Right Campaign which aims at winning real high quality universal healthcare for all and ensure healthcare dollars actually go to healthcare. I hope that you will join us for a huge rally in support of Healthcare is a Human Right on May 1st at the Statehouse in Montpelier!
Take the Pledge and help make Vermont the first state in the Country to recognize Healthcare as a Human Right! Click: http://www.workerscenter.org/may1 to sign up! To Our Health!"