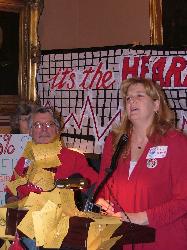 Jennifer Henry, President, United Professions AFT VT, speaking at State House on January 6th 2010
MONTPELIER - January 6, 2010:  More than two hundred Vermonters from the Vermont Worker's Center "Healthcare Is A Human Right Campaign (HCHR)," filled the Cedar Creek room at the Statehouse today to deliver thousands of postcards to the leadership of the State Legislature and to take action on the two single-payer healthcare bills, S.88 and H.100, and mend the broken healthcare system this year.
United Professions AFT VT President, Jennifer Henry, was a key speaker at the event.  The Board of Directors of UP/AFT-VT endorses the HCHR Campaign and is proud to help lead the way on this important issue.  This is an example of why we are working so hard to build our Committee on Political Education (COPE) and why our members involvement is so critical.
 Check out media coverage for this event.
Vermont Public Radio coverage of January 6th event "Workers Lobby For Single Payer Health Care"
www.vpr.net/news_detail/86826/
Times Argus article on Jan 12 Hearing: "A call for health reform"
www.timesargus.com/article/20100113/NEWS/100119988
BACKGROUND: In 2008, the Vermont Workers' Center launched the Healthcare Is A Human Right Campaign and on May 1, 2009 organized a "Healthcare Is A Human Right" Rally at the Statehouse which drew over twelve hundred participants and was the largest weekday rally in the state's capitol history. Over the past few months the campaign has organized a series of nine People's Forums on Healthcare across the state with over 70 state legislators and more than 800 people participating to date. At the December 1st Chittenden County People's Forum in Colchester, Senator Racine announced that joint hearings on single payer bills H.100 and S.88 would begin on January 12.