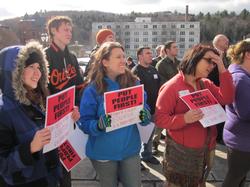 Rally to Increase Funding for Higher Education:  On February 7th, UP members from UVM and the Vermont State Colleges stood with hundreds of students calling on the legislature to increase funding for higher education.  Rich Warren, UP Vice President for Higher Education, explained in a meeting with the Governor, "This funding situation is unsustainable.  The number of students on our campuses have increased by 35% over the the past 10 years, and yet state funding has remained essentially flat.  The result is that students are paying more, and they are graduating from the Vermont State Colleges with a tremendously higher student debt load."

Media coverage of the event: 
UP AFT Vermont Members Julie Theoret, Anna Gebhardt and Sonja Raymond meet with Governor Shumlin, Howard Dean and other legislators at the Capitol Plaza.


Early Educators Organize for Respect & Right to Organize:  Also on February 7th, UP members and students wore stickers supporting the right of Early Educators who want to join UP AFT Vermont  and bargain collectively.  Over 150 Early Educators spent the day at the statehouse meeting with Senators and urging them to pass H.97, the bill passed by the house last year which would establish their right to negotiate with the state.  According to UP President Ben Johnson, "Students, Faculty, Staff and Early Educators standing together sent a powerful message to those who would stand in the way of Early Educators forming their Union.  Our presence in the statehouse moved us significantly closer to passing H.97 in the Senate."

UP AFT Vermont Nurse Leaders Appointed to Green Mountain Care Board Advisory Committee:  Our union's commitment to healthcare for all and the strength of UP AFT Vermont at the statehouse resulted in two of our members being appointed to the Green Mountain Care Board (GMCB) Advisory Committee.  This committee will help the GMCB shape the face of healthcare in Vermont.  Congratulations to Mari Cordes, RN and Deborah Kutzko, RN-FNP.  In addition, on March 7th at 1pm, Cornell University will present a free webcast on using frontline labor –management teams to improve healthcare quality and efficiency featuring VFNHP President Mari Cordes, for information on how to register, please email info@upvaft.org
Click

 
Here
 

to Join the UP AFT Vermont Committee on Political Education