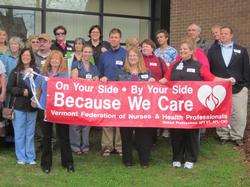 As Nurses Week comes to a close, the Vermont Federation of Nurses and Health Professionals would like to take a moment to honor and respect the work Nurses and frontline Health Care Professionals do every day. The Vermont Federation of Nurses and Health Professionals Local 5221 has begun contract negotiations with Fletcher Allen Health Care. The top priority for the Nurses Union in this year's negotiation is ensuring excellent patient care through safe staffing.

"We are concerned with the tone the Hospital is taking this early on in the negotiation process. Our top priority is to ensure patients are receiving high quality, safe care. We know that we are the experts on the staffing resources needed to deliver that care, and we have fought for years to ensure that we maintain that protection for our patients.  Scientific evidence validates that when we have the right number of nurses to do the work, the better the patient outcomes – infections and other complications are reduced, delays in treatment and length of hospital stays are reduced, and overall quality of care is improved. We also know that when we are pushed to our physical and emotional limits - mistakes happen. Better patient outcomes are not only good for patients, they positively impact the financial condition of the hospital in a very significant way, " stated Mari Cordes, Vascular Access Nurse Educator and President of the Vermont Federation of Nurses and Health Professionals.
Laurie Aunchman, a 30 year nurse from the Surgical ICU and member of the Negotiation Committee, said, "In these negotiations, we find that we are once again fighting to ensure that Fletcher Allen respects the importance of our work, improves staffing, and continues working with us to ensure our ability to follow best practices and provide safe patient care. We Put Patients First every day, and we ask the same of Fletcher Allen."
"In the Emergency Room, we see patients with the most critical conditions to patients who need stitches or have broken bones, and everything in between. We are always first responders and know that patients' conditions can change in an instant; we need to be ready to deal with anything, on time, every time. Our Union is fighting to ensure that we have the staffing we need to take care of every patient that walks through our doors. That is the focus of our contract negotiations this year," stated Rick Pollack, Emergency Room RN.

The VFNHP will continue to negotiate with Fletcher Allen through June in the hopes of achieving a three year contract that will continue to ensure best nursing practices at Fletcher Allen, safe nurse to patient ratios and excellent care at the bedside.