On Tuesday, April 17th, members of Vermont Early Educators United-AFT will come to Montpelier to weigh in on legislation that recognizes their right to organize. The legislation is currently under consideration by Vermont's Senate and could come up for a vote on Tuesday. Early educators and their supporters will hold a press conference in the Cedar Creek Room of the State House at 1:00 pm.
At the press conference, early childhood educators will address the results of a poll conducted by Hart Research Associates that found that by a margin of 26 percentage points, Vermont voters favor allowing early childhood educators to engage in collective bargaining with the state (58% favorable, 32% unfavorable, 10% unsure). (See the attached fact sheet on the poll.)
Early Educators have been organizing for two years for respect for their profession and to increase public understanding of the importance of their work. The bill that recognizes their right to organize and to collectively bargain with the state passed the House of Representatives last year by an overwhelming majority, 90-54. "In addition, to the strong support of the House, the poll demonstrates that this is a grassroots issue. Vermont voters,along with many other elected officials, support early childhood educators and our right to form a union and negotiate with the state," said Kay Curtis, an early educator from Brattleboro.
Governor Peter Shumlin has repeatedly stated his support for the legislation. The Vermont Democratic Party State Committee passed a unanimous resolution in support of early childhood educators' right to organize. Nearly every labor union in Vermont signed a solidarity letter in support of the legislation. Recently, U.S. Senator Bernie Sanders spoke out strongly in support of the providers union, saying, "It is absolutely imperative we see a union for childcare providers."
Procedural maneuvers have kept the bill from coming to a vote on the Senate floor this session. Early childhood educators are not deterred by the ups and downs of the legislative process. "Some people, when they get tired, give up," said Cathi Ste. Marie, a registered home provider from North Troy, "Early educators don't give up. We work harder." Ste. Marie said she and her colleagues know that building a union is how they will be able to make positive change in the early care and education system in Vermont. "All of the things that we have accomplished, the vision of what we can be collectively and what we can achieve, keeps us going," she said.
Similar legislation has been passed in 14 other states. Collective bargaining has been shown to expand access tochildcare for low and moderate-income parents and to improve wages for providers. The right to collective bargaining is a fundamental right and foundational principle of the Democratic Party. Early Childhood educators are organizing to exercise the same right other professionals, such as teachers, nurses, firefighters and police officers, enjoy.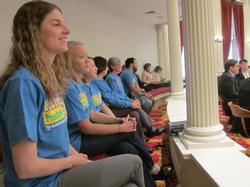 ---
Additional Resources