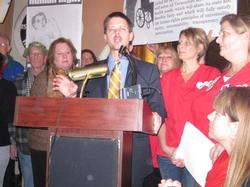 Shap Smith and United Profession members
United Professions Rally at First Day of Vermont Legislature!
United Professions members joined with the Vermont Workers' Center and several other organizations for the first day of the legislature to advocate for Healthcare as a Human Right. Mari Cordes, President of the Vermont Federation of Nurses & Health Professionals, was the MC for the event, and introduced Shap Smith, Speaker of the House, who encouraged Vermonters to continue to organize for healthcare for all. 
"As a nurse, I can report first hand that the current system is not working. We know that people are suffering and dying needlessly. Tens of thousands of Vermonters lack access to healthcare, and we know people who have health insurance are suffering because they cannot afford the increasing costs of premiums, deductibles and copayments," said Cordes.
Read more on first day at the Legislature
http://www.burlingtonfreepress.com/apps/pbcs.dll/article?AID=2011110105036
http://workerscenter.org/node/688
http://vpr.net/news_detail/89665/