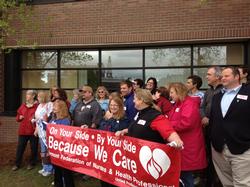 Nurses at Fletcher Allen Ratify Contract, Succeed in "Putting Patients First"
By a 96% majority, nurses at Fletcher Allen Health Care voted to ratify the tentative agreement that had been reached with the hospital in the early morning of June 27, 2012 after an all night bargaining session.
Nurses of Vermont Federation of Nurses and Health Professionals began contract negotiations with Fletcher Allen on April 3rd with safe staffing improvements at the heart of their contract campaign, only to discover that Fletcher Allen Management was proposing major takeaways to safe staffing gains that nurses had made over the past 10 years.   Backed by years of evidence of the direct correlation between nurse patient ratios and patient safety and supported by organizations such as the Institute of Medicine and the American Nurses Association, the nurses not only fought back proposals from the hospital that included mandatory on-call, mandatory floating, and unsafe scheduling practices, but made important gains.  Some of these gains include improvements in the union's ability to analyze staffing levels with the hospital, in staffing resources for outpatient nurses, and gains in the Model Unit Process, a labor-management quality improvement initiative.
VFNHP attributes the success of their campaign to the collective efforts of hundreds of nurses over the past several months including preparedness to strike to maintain patient safety, and many hundreds of community members and elected officials standing by the nurses, attending the Board of Trustees meeting and the Honk-n-Wave, signing petitions, and writing letters.  Vermont Federation of Nurses and Health Professionals nurses are pleased that they are able to maintain their sacred role as patient advocates, and have the tools to do so.